If you are looking for a top-notch dental practice that will be able to provide you and your family with most, if not all, of the dental services you will ever need, you will definitely want to come and visit us at our dental practice, Crown Dental. At our dental practice we offer a wide variety of services so that our patients will not need to seek out other dental specialists, and end up being treated in an office they are not familiar with, by doctors they do not know. When you are looking for the very highest level of dental care, we suggest that you come and see our Linn Creek dentist.
We are very happy to have three excellent dentists on staff. Our dentists are: Dr. B.W. Austen; Dr. Crystal Strickler; and Dr. Philip Cody Austin. Whether you need a regular dental exam, or a full mouth rehabilitation, you will be able to receive all of the dental care you require at our office. Patients are known to come from all over our state, to receive our extremely affordable dentures and implant treatments. While our Linn Creek dentist offers affordable services, there is never any compromising on the top-notch quality of his or her work.
Dental implants are a very popular way for patients to replace missing teeth. Dental implants can be used to replace individual missing teeth or to secure dentures. Dental implants are a popular tooth replacement method because dental implants look, feel, and function just like regular teeth. In order to qualify for this procedure, your jawbone will need to be thick enough and healthy enough to withstand the oral surgery. Other ways that our dentists provide replacement of teeth, are with fixed or removable bridges, and with dentures. Our dentist will fully analyze your individual smile situation, and make a recommendation as to the best way for you to have your smile restored. If you simply need a dental filling, you will be happy to know that at our practice you can either get a traditional silver amalgam filling or have your tooth filled with a tooth-colored composite filling. While silver amalgam fillings are very strong, composite fillings are very aesthetically pleasing. Our dentists will make a recommendation on which is the best material to use, based on the size and location of cavity. At our practice we also offer pediatric dental care, porcelain crowns, teeth whitening, porcelain veneers, tooth extractions, night guards, and root canal therapy to save the life of the tooth. For an appointment to see our expert Linn Creek dentist, contact us today.
By Crown Dental
March 27, 2019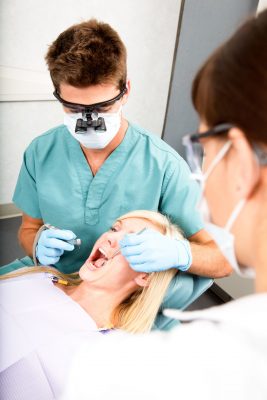 Blog Posts
Follow Us